>> 2018 Diagrams of Education Systems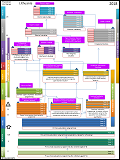 The OECD Education GPS is pleased to announce the launch of the 2018 Diagrams of Education Systems which is part of the site's Analyse by country framework. Simple one-page colour-coded diagrams using the International Standard Classification of Education (ISCED) provide an overview of the institutional structures of 46 education systems and their major features, such as the number of years of compulsory education, starting age at each educational level, theoretical duration of studies in various programs, recognized exit points, typical student trajectories and awarded degrees and qualifications. These diagrams permit users to compare countries' education systems, and can be saved for use in professional presentations and documents. All diagrams are available both in English and in the language of the country in question.
>> Education at a Glance 2018: OECD Indicators

Education at a Glance 2018: OECD Indicators is the authoritative source for information on the state of education around the world. It provides data on the structure, finances and performance of education systems in the 36 OECD and a number of partner countries. With more than 100 charts and tables, Education at a Glance 2018 imparts key information on the output of educational institutions, the impact of learning across countries, and worldwide access, participation and progression in education. It also investigates the financial resources invested in education, as well as teachers, the learning environment and the organisation of schools. The 2018 edition presents a new focus on equity in education, investigating how progress through education and the associated learning and labour market outcomes are impacted by dimensions such as gender, the educational attainment of parents, immigrant background, and regional location. The publication introduces a chapter dedicated to Target 4.5 of Sustainable Development Goal 4 on equity in education, providing an assessment of where OECD and partner countries stand in providing equal access to quality education at all levels. Finally, new indicators are introduced on equity in entry to and graduation from tertiary education, and the levels of decision-making in education systems. New data are also available on the statutory and actual salaries of school heads, as well as trend data on expenditure on early childhood education and care and the enrolment of children in all registered early childhood education and care settings.
More data are available on the OECD educational database.
>> Education Policy Outlook Country Profile: Spain
>> Education Policy in Japan: Building Bridges Towards 2030
>> OECD Reviews of Evaluation and Assessment in Education: Morocco
>> OECD Reviews of School Resources: Colombia 2018
>> Welcome Lithuania! The 36th Member of the OECD
>> Effective Teacher Policies: Insights from PISA
>> Education Policy Outlook 2018: Putting Student Learning at the Centre
>> Higher Education in Norway: Labour Market Relevance and Outcomes